Herman Miller Aeron Chair – Size B

Hersteller:
Herman Miller
Order number:
DC-10001-B-V-PF-G-WB
Shipping immediately after payment.
Delivery time appr. 1-3 workdays
Prices incl. VAT plus shipping costs
The Aeron Chair: One of history's most successful office chairs that is despite its focus on...
more
Herman Miller Aeron Chair – Size B
The Aeron Chair: One of history's most successful office chairs that is despite its focus on ergonomics a timless design classic
Specifications
Condition:

» professionally refurbished

Professionally refurbished means that all chairs were verified both visually and technically and fully reconditioned eventually. Consequently, they not only look as good as new, also all their controls work at 100%. Therefore the condition of the products is very good. However, this implies that products you purchase might have some minimal traces of use.

Colour:
Corpus and star base in aluminium
Casters:
Soft floor casters
Measurements Aeron B:
108 cm height
68 cm width
43 cm depth
The designers Don Chadwick and Bill Stumpf created a both ergonomic and artistically high-quality office chair. Their basic idea was a design office chair which makes working life easier for office workers who spend most of the day sitting. Therefore they invented the Pellicle membrane for the seat and the back rest as well as the Kinemat patent that is an innovative tilt mechanic. When the Aeron Chair was launched, it was the the first office chair without cushioning.
Among others, the Aeron was elected "Design of the Decade" by the Industrial Designer's Society America and named the best implement during the National Ergonomic Conference and Exhibition. In New York's Museum of Modern Art the Aeron is a permanent exhibition piece.
Breathable Pellicle® Membrane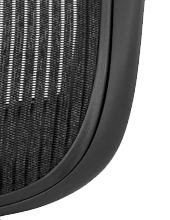 Inspired by natural processes, the patent Pellicle membrane is the core element of the Aeron Chair by Herman Miller. Basically, the membrane is modeled on diffusional processes of the human skin.

The designer's aim was to create ergonomically ideal conditions to sit on the one hand and on the other a transparent design. Because the Pellicle membrane is breathable – as in contrast to ordinary upholstered seats – there is no sweating at your back or bottom as well as an optimal sitting position.
An office chair of many talents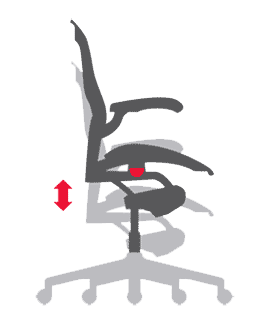 Rotation and seat height adjustment
Rotation and seat height adjustment – the two standard elements of every office chair. Equipped with perfectly balanced rotation and a massive five-star base, the Aeron Chair assures a safe rotatory motion. The seat height is adjustable from 16cm (Aeron B and C) to 13cm (Aeron A). With these basic features the Aeron Chair fulfils all established EU, TÜV and GS norms for office chairs.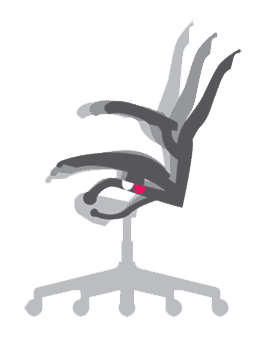 Tilt Limiter
The Aeron Chair is an office chair of many talents: With only a few handholds this office chair by Herman Miller adjusts your sitting habits and thereby supports a healthy posture. One the one hand you can arrest the rear seat inclination of an Aeron in a random position up to a 30° angle. On the other hand you can adjust an Aeron to a preferred tilt limit.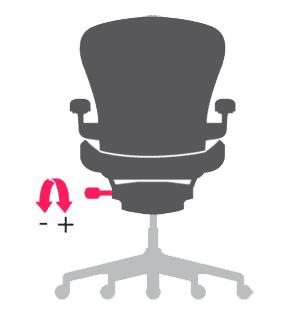 Tilt Resistance
The tilt resistance defines the effort the user has to expend to lean back or forward in his office chair. If the tilt resistance is adjusted strongly, the back rest inclines the stabilizing effect and the back rest support of the Aeron Chair. This way it is harder to tilt the office chair backwards. If the tilt resistance is adjusted softly, the Aeron slightly moves with your body movements.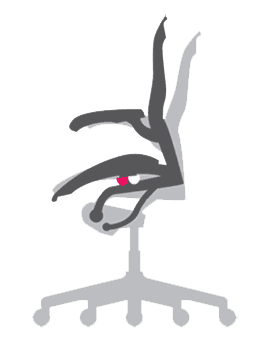 Forward Tilt
The forward tilt is a configuration element of office chairs of the higher prize segment. The Aeron Chair, which is a high end product, provides a forward tilt with a tilt degree up to 5°. Tilting forward is reasonable, if you want to relax your hips, knees and ankles while sitting. This only makes sense, if the office chair has a high seat height.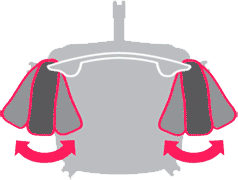 Adjustable Arm Rests
A special feature of the Aeron Chair's arm rest is that they can not only be adjusted horizontally but also vertically, whereby they support different postures. To cope with different body heights the arm rest is lockable in an area of 10cm on a random level, because for the protection of your shoulders your forearms should rest loosely. In order to fulfil the manifold tasks at an office desk, the arm rest of Aeron Chairs can be swiveled vertically up to 30°, 15° outwards and 17,5° inwards. If the arm rests point outwards, it is easier to use a computer mouse more comfortably; if they are pointed inwards, it helps to endure long sessions at the keyboard.
Your Individual Configuration
Which size?

Basically you only need the basic information of body height and body weight to find yourself the perfect Aeron Chair. People using the Aeron B fall to the share of 90% but there are exceptions: While children or petite women (e.g. 60kg and 155cm) should use the Aeron A, tall and sturdy men (e.g. 140kg and 200cm) should chose the Aeron C. If you are in the transition of A, B or C, a test seating can be useful.
Learn more on our site "Which Aeron suits me best?"
Which back rest?

With the oval lumbar support you can endorse your back from the middle back up to the loins. The lumbar support forces a healthy body posture, because its padding fills the space between your back and the backrest. Depending on how much back rest support is needed, you can either use the voluminous or the slim side of the lumbar pad.

The patent system PostureFit is the Aeron Chair's second generation of backrest supports. The innovative mechanism has a different backrest support: While the lumbar support applies pressure to certain parts of the back, the PostureFit system provides for a ergonomic stability of the pelvic, which also supports the back. Sitting close to the backrest in order to support the back properly is not mandatory anymore.
Which arm rests?

Arm rests made from vinyl are easy to clean and made-to-last. The material is washable and prevents excessive sweating especially at high temperatures. For years vinyl remains consistent in form, which is why vinyl arm rests suit an uncomplicated long-lasting usage.

If you decide for leather arm rests, you chose a valuable upgrade version. The popular material combines a classic look with a comfortable and flexible surface feel. Organic leather is hardly ever 'ready' and gains a comforting used look after some time of usage. So, a distinctive executive chair is most certainly an Aeron Chair with leather arm rests.
Which floor casters?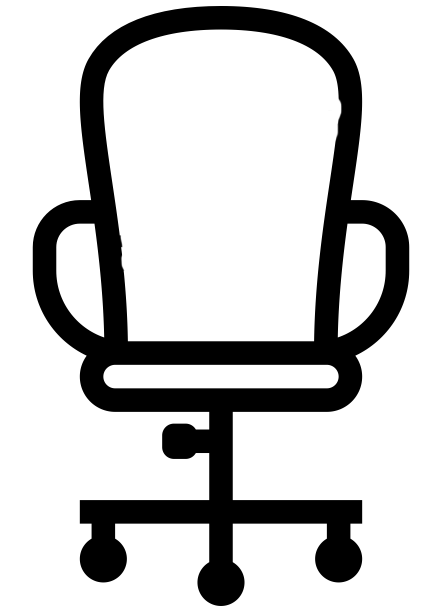 The Aeron Chair is equipped with floor casters ex factory, which primarily suit soft floor coverings like carpets. The casters, therefore called soft floor casters (SFC), are recognizable by their completely black appearance. They are made from hard synthetic material so that they can effortlessly coast over carpets. Though when furnishing modern offices you might come up against hard floors rather than soft floors, wherefore hard floor casters are necessary.
Many offices have parquet or laminate floors, whereas laboratories come with tile floors – flooring materials for which the standard floor casters of the Aeron Chair is not suitable. The solution for hard floors are hard floor casters (HFC) whose distinctive features are soft running surfaces, which surround the grey-coloured ebonite core with a polyurethane cover. This is why the chair silently coasts over the flooring, also protecting it from any damages. Because of the special surface structure of hard floor casters, the office chair is slowed down on hard floors, while it can be easily handled at the same time. Additionally, having HFC makes the usage of floor protection mats obsolete.

The HFC provided with Aeron Chairs are not original Herman Miller products. Though, made from the same material in Germany, they are identical in construction. As the DIN standard prescribes, the running surface only has different colour. Our hard floor casters "made in Germany" are TÜV approved and meet the requirements of the ISO certificate.
Learn more in our extended version "Why hard floor casters?"
Not yet convinced?
Read the 5 Good Reasons to Own an Aeron Chair.
If you still have not taken a decision, do not hesitate and call 030 577 084 150. We take as much time as needed to find you the perfect Aeron Chair.
Read, write and discuss reviews...
more
Customer evaluation for "Herman Miller Aeron Chair – Size B"
From:
Nicolas Spitzauer
On:
2 Jun 2017
Für mich DER Stuhl
Der Herman Miller Aeron spielt zwar ergonomisch schon ganz weit oben mit, aber die reine Ergonomie würde man vielleicht auch schon für ca. 800€ statt 1500€ bekommen. Der Aeron hat für mich aber das beste Gesamtpaket. Bei einem Neukauf bekommt man eine 12-Jahres-Garantie, was auf die Haltbarkeit schließen lässt. Das Design hebt sich sehr deutlich von anderen ergonomischen Stühlen ab, was für mich auch wichtig war. Der Komfort ist einzigartig und der Mesh-Stoff auch auf der Sitzfläche verleiht ihm klimatische Eigenschaften, die man im Sommer einem Stuhl mit Stoff- oder Lederpolstern gerne vorzieht.
Ich hätte ihn also in meiner Konfiguration für 1500€ kaufen können, was mir zu viel Geld war, oder günstiger bei ebay. Allerdings gab es ihn da nicht in der gewünschten Konfiguration, der Zustand war meist unklar und ich hätte keine Garantie gehabt.
Hier konnte ich den Aeron konfigurieren, es gibt eine 12-monatige Garantie, der einwandfreie Zustand ist gesichert, da er professionell aufbereitet wurde, und er ist sogar genauso günstig wie die besten ebay Angebote!
Ich habe meinen Aeron hier gekauft und bereue es keinesfalls. Bei Fragen zu der PostureFit Montage, habe ich sofort Hilfe vom Support bekommen. Sehr zu empfehlen für jeden, der sich einen Herman Miller Stuhl zulegen will!
From:
Rolf Hamann
On:
19 Apr 2017
Ein Bürostuhl, der sein Geld wert ist
Berufsbedingt sitze ich bis zu 8 Stunden am Schreibtisch. Den Aeron fand ich nach meiner Recherche passend, weil er keinen normalen Stoff hat, sondern eine durchlässige Membran, die besser atmet. Außerdem macht der Stuhl einfach was her und ist nicht so überfrachtet, wie andere Ergonomie-Stühle. Das Modell ist zwar keine Neuware, wie mir der Mitarbeiter telefonisch erklärte (darum der günstige Preis). Ich bin aber überrascht, das äußerlich und vom Sitzgefühl kein Makel festzustellen ist. Auch die Kaufabwicklung konnte besser nicht sein. Ich empfehle also gerne weiter!
From:
Christoph Luig
On:
1 Feb 2017
Stuhl sehr gut, Service herausragend
Ich möchte Ihnen ein großes Lob aussprechen. Ware, Service, telefonischer Kontakt, Lieferzeit alles genial.
Write an evaluation
Evaluations will be activated after verification.