5 Good Reasons to Own an Aeron Chair
1. The Rewarded Design of Aeron Chairs
Since its introduction the Aeron Chair attracts an audience with a passion for design. Among many others, especially start-up companies, designers and technology businesses, who want their office furniture be up-to-date and fancy, prefer Aeron Chairs. Comparing Aeron Chairs to other types of ergonomic chairs of the same or an higher price range, the chair did not forfeit its timeless charm even 20 years after it was designed by Herman Miller. Not to say that the successful and many award-winning design became iconic by now.
The Aeron is an ergonomic office chair but beyond this also a sense of life to its owners, as it combines design and ergonomics in the most elegant way. Comparing an Aeron to an Ergohuman by Eurotech, you recognize both the chairs' ergonomic aspects right away. The Ergohuman is a comfortable office chair for healthy sitting. Though, an aesthete might not feel highly attracted to its design. While designing the Aeron Chair Don Chadwick respected this certain desire – wherefore the Aeron charms with soft roundings and elegant forms one immediately want to sit down on.
2. The High Respiratory Activity of Aeron Chairs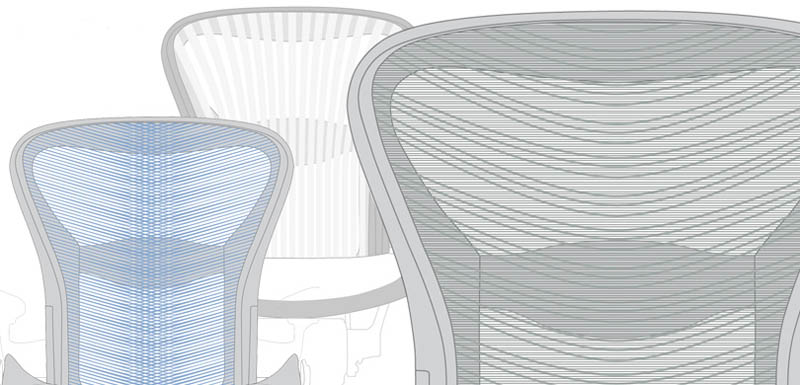 For generations the good old executive chair is famous for its coziness and comfortableness. The reason for this are both the soft padding and the leather fashioning. However, the traditional executive chair lacks ergonomic benefits: Sitting in an executive chair is less health-promoting, because it does not feature possibilities to change settings such as the seat and arm height or the arm angle.
Especially in summer there is another problem, namely imprints of sweat. Because of an executive chair's thick padding, the circulating heat is dammed between the seat and the textile surface. This problem's solution is the Aeron Chair, as it is the first office chair without seat padding or backrest cushions. Instead, the Aeron comes with the patent pellicle membrane, which is an air-permeable, breathable and flexible synthetic mix. As test have proven, the pellicle membrane prevents a heat accumulation and also minimizes the temperature at certain pressure marks.
3. The Mani-fold Configuration Possibilities of Aeron Chairs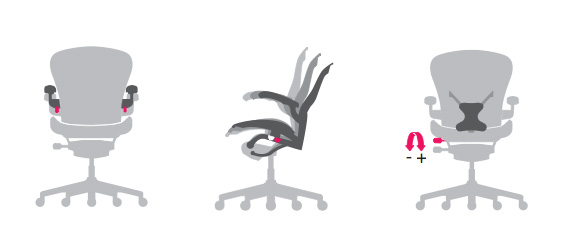 In many desk jobs a standard office chair is sufficient. There are occupational groups, however, who spent more than eight hours per day sitting in a chair. Who ever does so, should not obey to its seating furniture but vice versa. In order to avoid developing or compounding back problems, the Aeron adjusts to its user's natural motions.
While an IKEA desk chair only comes with settings to adjust the seat or arm height, the Aeron Chair is universally configurable. Beside seat and arm height adjustments, you can further configure arm angle, lumbar height, tilt (incl. forward tilt) and tilt tension, as well as lumbar height and depth. The Aeron Chair is available in three different sizes. All in all, there are so many configuration possibilities that it is often necessary to be introduced to the usage and configuration of an Aeron Chair by a trained employee.
4. The Health-Supporting Back Support of Aeron Chair
The Aeron Chair by Herman Miller is delivered in two different models, either with lumbal support or PostureFit®. Both models support the lower back and were developed in own research laboratories particularly for this concern. Especially the latest evolution, the PostureFit®, guarantees an enduring back rest that supports a healthy posture. Suchlike back supports are absent from standard office and desk chairs. The conclusion is a continuous twisting and turning in order to prevent back pain during long sittings. Such office chairs can be equipped with additional back rests or lumbar supports, this, however, cannot replace a full-value, professional and flawless office chair like the Aeron.
5. The High-Quality Materials of the Aeron Chair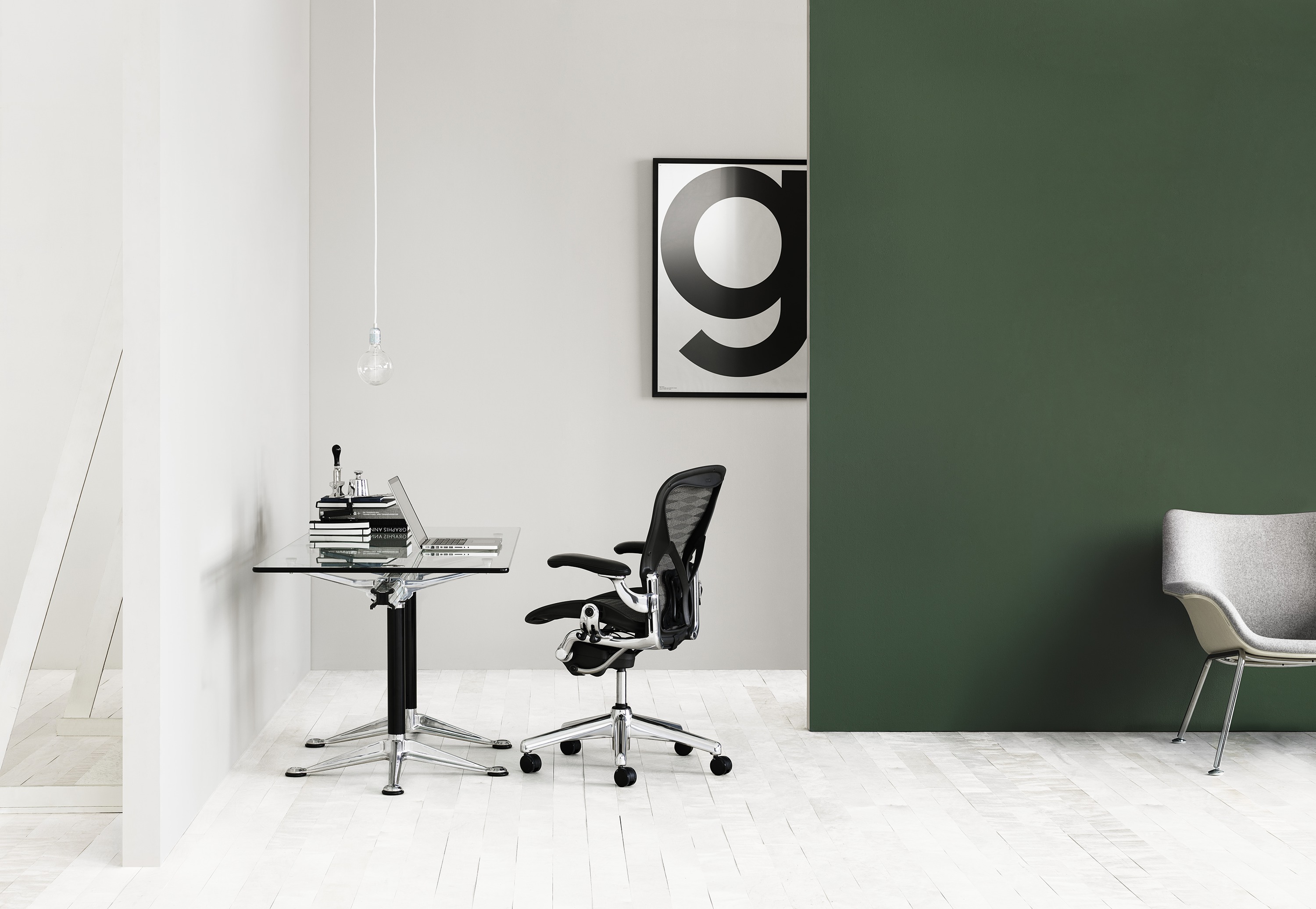 Most of the furniture shops with office chairs in their assortment have to calculate unpromisingly. Consequently, their office chairs are affordable but anything else but persistent due to their economic production. Both the exterior and the interior of most office chairs are mainly made out of synthetic material, which can be produced fast and favourably. Nevertheless, synthetic material is less reliable as a steady component, wherefore often spares are necessary.
The Aeron Chair by Herman Miller is indestructible. More than three thirds of its components are made of aluminium or steel and thereby offer a solid grounding to heavier users as well. While most of the standard office chairs were made to bear weights up to 110kg, the Aeron Chair was tested for stability up to 130kg continuous load. Moreover, the Aeron offers not only an unique seating experience because of its pellicane membrane, but also a long-lasting durability - especially when it comes to the textiles or the seat foam. If there is yet a component to be replaced, they are stocked with retailers such as DesignCabinet and disposable within the period of its guarantee.