Repair of Herman Miller products
Is your Aeron broken? Some of the repairs of your Herman Miller office chair can be done easily and uncomplicated, while others require an expert. Gain an overview of possible defects of your Aeron Chair, Embody, Mirra 2 or any other models by Herman Miller.

What you can replace by yourself

Seat


Arm rest and arm cushions


Lumbal pad


PostureFit


Floor casters


Backrest
Using assembly instructions, you can try to replace supplements by yourself. In case you got stuck, we can help you by telephone or via Webcam*.
*a service fee can occur
What you should leave to an expert
Gas spring

All corpus parts and small cogs

Five star base
Trust us to whip model back into shape! The DesignCabinet has the necessary know-how to repair and refurbish Herman Miller products. Our workshop has all supplements in store and knows all office chairs by Herman Miller inside out – that is because of work experiences in Herman Miller works. Complete the repair order in the contact form below or call us. We'll send you a cost estimate as soon as possible.
Benefit from Seat Swap!
The option to exchange a new Aeron Chair with an old one is what we call Seat Swap. Sometimes a repair is not worth the high costs, wherefore a new purchase can be wiser. With the DesignCabinet you get 40% off a brand-new Herman Miller office chair – in exchange with the defect model. With a new model comes a 12 year-warranty.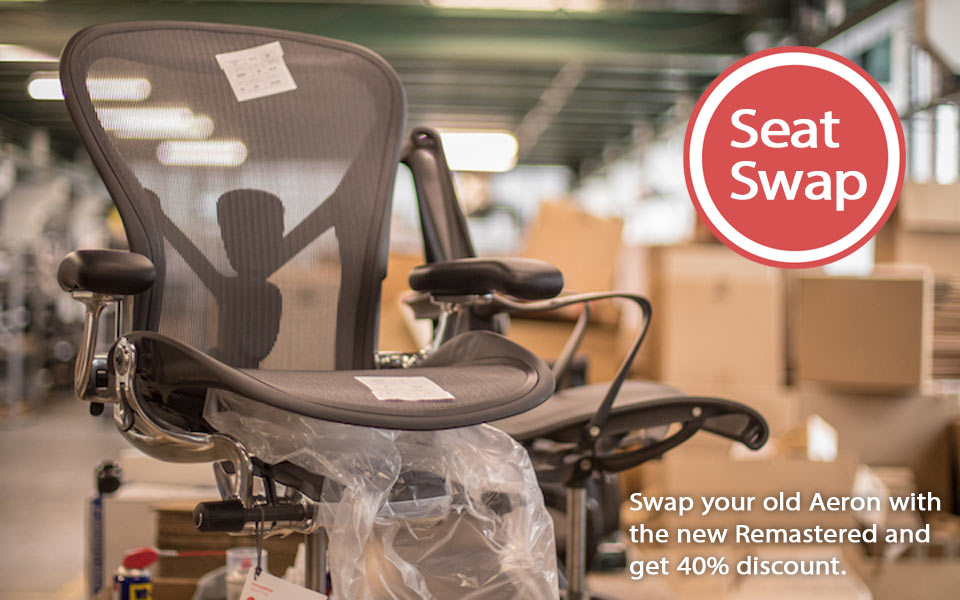 Warranty Information
New purchases of Herman Miller office chairs have a 12 year-warranty. This is a statement of uncompromising trust in the quality of his products. Get more information on warranty gradations in the → Herman Miller Warranty Statement (PDF in Englisch).

Refurbished office chairs purchased with the DesignCabinet come with a 12 months-warranty on all components. In case the functionality of your Aeron model disrupted within this time, we pick it up, repair it and send you a new model. All repairs within our warranty period are naturally free of charge.
Is a repair worth the costs? Ask your non-binding question with this repair request and we show you different possibilities of exchange.
Repair of Herman Miller products