Herman Miller Aeron Chair – Size B

Hersteller:
Herman Miller
Order number:
DC-10001-B-V-KU-G-WB
Immediate shipping after payment.
Prices incl. VAT plus shipping costs
Professionally refurbished
Swivel chairs and spare parts are verified both visually and technically and fully refurbished eventually. They not only look as good as new, also all their controls work at 100%. Therefore the condition of the products is stated as very good. However, this implies that products you purchase might have some minimal traces of use.
more…
Open text field 1:

Möbel >Büromöbel >Büro- & Schreibtischstühle

Open text field 2:

generalüberholt
Herman Miller Aeron Chair – Size B
The Aeron Chair: One of history's most successful office chairs that is despite its focus on ergonomics a timless design classic
The designers Don Chadwick and Bill Stumpf created a both ergonomic and artistically high-quality office chair. Their basic idea was a design office chair which makes working life easier for office workers who spend most of the day sitting. Therefore they invented the Pellicle membrane for the seat and the back rest as well as the Kinemat patent that is an innovative tilt mechanic. When the Aeron Chair was launched, it was the the first office chair without cushioning.
Among others, the Aeron was elected "Design of the Decade" by the Industrial Designer's Society America and named the best implement during the National Ergonomic Conference and Exhibition. In New York's Museum of Modern Art the Aeron is a permanent exhibition piece.
Breathable Pellicle® Membrane
Inspired by natural processes, the patent Pellicle membrane is the core element of the Aeron Chair by Herman Miller. Basically, the membrane is modeled on diffusional processes of the human skin. The designer's aim was to create ergonomically ideal conditions to sit on the one hand and on the other a transparent design. Because the Pellicle membrane is breathable – as in contrast to ordinary upholstered seats – there is no sweating at your back or bottom as well as an optimal sitting position.
Data sheet and brochures:
| | |
| --- | --- |
| Your type: | Designer, Executive league, Steady seated, Producer, Architect |
| Usage: | Office |
| Designer: | Don Chadwick & Bill Stumpf |
| Warranty: | 1 year |
| Weight: | 23 kg |
| Recyclability: | 91% |
| Condition: | Professionally refurbished |
| Arm rests: | Adjustment height, back & forth |
| Functions: | Tilt tension, Adjustment of seat height, Tilt limiter, Back- and forward tilt, Rotation |
| Seat depth: | Fixed |
| Back support: | yes |
| Lab testet up to: | 159 kg |
Fragen und Antworten
mehr
Fragen? Questions?
Danke für das Einsenden deiner Frage. Wir werden sie so schnell wie möglich per e-Mail beantworten. Sofern die Frage für alle Kunden interessant ist, wird sie anonymisiert in das FAQ aufgenommen.
Thanks for submitting your question. We will reply as soon as possible by e-mail. If the question is interesting for all customers, it will be added anonymously to the FAQ.
Wird der Stuhl fertig montiert geliefert? / Does the chair come fully assembled?
Der Aeron Chair Classic wird aufgrund des gängigen Packmaßes innerhalb Deutschlands mit abmontierter Rückenlehne geliefert. Die lässt sich einfach mit einem Inbusschlüssel (Sechskantschraubendreher) anbringen. Beim Checkout kannst du aber auch Zusatzleistungen wie "Montierte Lieferung bis Bordsteinkante" oder "Montierte Lieferung ins Haus und Entsorgung der Verpackung" buchen. Für Lieferungen nach Europa gelten die gleichen Bedingungen.
Im Berliner Stadtgebiet liefert ein Kurier zur deiner Wunschzeit den Stuhl vollständig montiert bis zur Bordsteinkante oder als Premium-Variante in die Wohnung.
---
The Aeron Chair Classic is delivered due to the common pack size with the back rest removed. The back rest can be easily attached with an Allen key (hex screwdriver). At the checkout, you can also book additional services such as "Assembled delivery to curbside" or "Assembled delivery to the house and disposal of the packaging".
In the city of Berlin, a courier delivers the chair fully assembled to the curb or as a premium service to your apartment at your desired time.
Welche Rückenunterstützung brauche ich? / Which back support do I need?
Mit der ovalen Lumbalstütze unterstützst du einen bestimmten lokalen Bereich – den mittleren Rücken bis zu den Lenden. Eine gesunde Körperhaltung wird forciert, weil das Polster den freien Raum zwischen Rücken und Rückenlehne ausfüllt. Je nachdem wie viel Unterstützung der Nutzer des Aeron benötigt, kann entweder die voluminöse oder die schlanke Seite des Lumbal-Pads verwendet werden.
Das patentierte System PostureFit verkörpert die zweite Generation der Rückenunterstützung. Während das Lumbalpolster Druck auf bestimmte Bereiche des Rückens ausübt, leistet das PostureFit-System ergonomische Stabilität auf den Beckenbereich, die gleichmäßig auf den Rücken abstrahlt. Ein direktes Sitzen an der Rückenlehne ist für eine Rückenunterstützung nicht mehr zwingend notwendig.
---
With the oval lumbar support, you can endorse your back from the middle back up to the loins. The lumbar support forces a healthy body posture, because its padding fills the space between your back and the backrest. Depending on how much back support is needed, you can either use the voluminous or the slim side of the lumbar pad.

The patent system PostureFit is the Aeron Chair's second generation of backrest supports. The innovative mechanism has a different backrest support: While the lumbar support applies pressure to certain parts of the back, the PostureFit system provides for an ergonomic stability of the pelvic, which also supports the back. So, sitting close to the backrest to support the back properly is not mandatory anymore.
Both the lumbal pad and the PostureFit are spare parts which can easily be mounted. An Aeron Chair, which is equipped with a lumbal support, can be converted with a PostureFit – or vice versa. For the independent installation there are also available as single components.
Sowohl die Lumbalstütze als auch das PostureFit sind Bauteile, die sich problemlos an- und abmontieren lassen. Ein Aeron Chair, der mit Lumbalstütze ausgestattet ist, kann mit einem PostureFit umgerüstet werden und umgekehrt. Für den eigenständigen Einbau sind sie auch als einzelne Ersatzteile erhältlich.
Welche Größe ist die richtige für mich? / Which Aeron suits me best?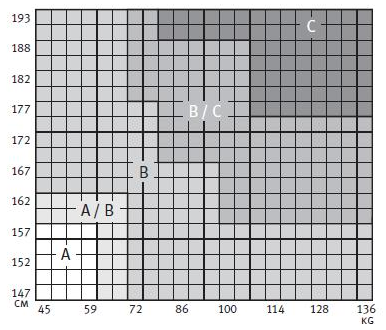 Um den richtigen Aeron Chair zu wählen, benötigst du – wie in der Grafik zu sehen – nicht mehr als die Eckdaten Körpergewicht und Körpergröße. Der Großteil aller Nutzer fällt unter die Größe B. Doch es gibt auch Ausnahmen: Während Kinder sowie sehr zierliche Frauen auf den Aeron A zurückgreifen sollten, empfehlen wir kräftigen und hochgewachsenen Männern den Aeron C zu verwenden.
Befindest du dich in einem Übergangsbereich, kann ein Probesitzen sinnvoll sein. Bist du 1,80 m groß und 95 kg schwer, liegst du genau im Übergangsbereich von B und C. Wir empfehlen unseren Kunden jedoch ab ca. 95 kg Körpergewicht den Aeron Chair in Größe C, um auf Nummer sicher in Hinblick auf die Bequemlichkeit der Sitzschale zu gehen. Einbußen in der Ergonomie gibt es keine.
---
To choose the right size of an Aeron Chair you need nothing more than to know your body weight and body height – as you can see in the graphic. The majority of user need the Aeron B. But there are exceptions: While kids and tiny women need the Aeron A, tall and heavy men should go for the Aeron C.
If you are in a transition area, a test sitting might be reasonable. If you are 1,80m tall and 95kg heavy, you are in the transition area of Aeron B and C. We recommend the Aeron Chair size C to customers with 95kg or more, as it effects the comfort of the seat squab. The ergonomic benefits remain the same.
Ist das die neue oder alte Version des Aeron Chair? / Is this the new or old Aeron Chair?
Der "alte" Aeron wird seit Einführung des "neuen" häufig als Aeron Classic bezeichnet. Der seit Anfang 2017 erhältliche Nachfolger erhielt den Namen Aeron Remastered. Aber von alt und neu im Sinne von gut und schlecht zu sprechen, wäre falsch.
Die Bezeichnung remastered (=überarbeitet, neu aufgelegt) drückt bereits aus, dass das neue Modell nicht als Verbesserung des Design-Klassikers dienen soll, sondern als aktualisierte Neuauflage mit nur kleinen Veränderungen in Design und Ergonomie. Es ging Designer Don Chadwick darum, den Aeron in das 21. Jahrhundert zu überführen.
---
Since the launch of the "new" Aeron, the "old" Aeron is often called Classic Aeron. The follow-up, which is available since the beginning of 2017, is called Aeron Remastered. But you are wrong, if you think old and new represent good and bad. The label "remastered" already reveals that the new model is not meant as an improvement of the design classic. It is rather an updated remake with small changes in design and ergonomics. For the designer Don Chadwick it was all about transferring the Aeron Chair into the 21st Century.
Welche Fußbodenrollen benötige ich? / Which floor casters do I need?
Die meisten Bürostühle werden ab Werk mit Bodenrollen ausgestattet, die sich vorrangig für weiche Untergründe wie Teppichböden oder Auslegware eignen. Die Rollen tragen deshalb bei uns die Bezeichnung Weichbodenrollen.
Im gemeinen Büro dominieren jedoch Parkett und Laminat, in Forschungseinrichtungen auch Fliesen. Die Lösung für harte Böden sind spezielle Hartbodenrollen. Sie sorgen dafür, dass sich der Stuhl geräuscharm und bodenschonend auf dem Untergrund bewegen kann. Aufgrund der besonderen Oberflächenstruktur wird der Bürostuhl auf dem schnellen Untergrund abgebremst, in seiner Nutzung aber spielend leicht bewegt. Zudem machen Hartbodenrollen die Verwendung von Bodenschutzmatten überflüssig.
---
By standard most office chairs are equipped with floor casters which mainly suit soft floorings such as carpets. Therefore, this kind of casters are called soft floor casters. Common offices are provided with parquet or laminate, or tiles in research facilities. For those groundings, the standard floor casters are sparsely suitable. Instead, special hard floor casters are needed.
Hard floor casters contribute to low-noise movements and protect the floor in your office. Because of a special surface texture, the office chair is slowed down, while it can easily be moved. Moreover, hard floor casters make the use of chair mats obsolete.
Hat das Modell alle Verstellmöglichkeiten? / Is the chair fully loaded?
Ja, dieses Modell ist "fully-loaded", das heißt es verfügt über alle Einstell- und Verstellmöglichkeiten, die am Stuhl möglich sind.
Bspw. bei Aeron Chair gehören neben der standardmäßigen Rotation und Sitzhöhenverstellung auch Neigungsbegrenzung, Neigungswiderstand, Vorwärtsneigung sowie höhenverstellbare Armlehnen, die sich nach innen und außen schwenken lassen.
---
Yes, this offered model chairs ist all "fully loaded", meaning that they come with all possibilities to individually modulate your office chair. Besides default rotation and seat height adjustment, i.e. the Aeron Chair is adjustable in its tilt limiter, tilt angle, tilt resistance and forward tilt. Moreover, the arm rest are height-adjustable and can be swivel in- and outwards.
Wie finde ich die Größe meines Aeron heraus? / Which size has my Aeron?
Am Aeron befindet sich am oberen, rückseitigen Teil der Rückenlehne ein Hermann Miller-Logo. An dessen Rückseite kannst du eine Einkerbung in Gestalt von einem, zwei oder drei Punkten ertasten, die die Größen A, B und C repräsentieren.
---
There is a Herman Miller logo at the upper back site of your Aeron chair. If you are able to feel a notch in form of a dot behind it, it is an Aeron A, while two parallel dots indicate an Aeron B. If you can feel a triangle, you own an Aeron C.
Stuhl testen? / Test Seating?
Grundsätzlich gelten beim Testen die gleichen Bedingungen wie bei einer Miete. Solltest du dich letztlich für einen Stuhl entscheiden, gilt die gezahlte Miete dann als Anzahlung.
---
Test seating is limited within Germany.
Read, write and discuss reviews...
more
Customer evaluation for "Herman Miller Aeron Chair – Size B"
From:
Dirk De Rudder
On:
8 Aug 2019
Großartige Stuhl und großartige Service
Super Service, super Preise, und sehr schnelle Lieferung.
Es ist einfach alles einwandfrei gelaufen, so wie man es sich wünscht.
From:
Chris B.
On:
22 Sep 2018
Weltbest!
Weltbeste Ware und weltbester Service. Sehr zu empfehlen!
From:
Admin
On:
24 Sep 2018
..und ein großer Dank geht auch an den weltbesten Kunden!
From:
Lukas Enzler
On:
6 Aug 2018
Alles perfekt!
Der Stuhl sieht wie neu aus und ist perfekt. Gerne wieder!
From:
Alex W.
On:
6 Jul 2018
Top Stühle, super Service
Alles Bestens!
From:
Nicolas Spitzauer
On:
2 Jun 2017
Für mich DER Stuhl
Der Herman Miller Aeron spielt zwar ergonomisch schon ganz weit oben mit, aber die reine Ergonomie würde man vielleicht auch schon für ca. 800€ statt 1500€ bekommen. Der Aeron hat für mich aber das beste Gesamtpaket. Bei einem Neukauf bekommt man eine 12-Jahres-Garantie, was auf die Haltbarkeit schließen lässt. Das Design hebt sich sehr deutlich von anderen ergonomischen Stühlen ab, was für mich auch wichtig war. Der Komfort ist einzigartig und der Mesh-Stoff auch auf der Sitzfläche verleiht ihm klimatische Eigenschaften, die man im Sommer einem Stuhl mit Stoff- oder Lederpolstern gerne vorzieht.
Ich hätte ihn also in meiner Konfiguration für 1500€ kaufen können, was mir zu viel Geld war, oder günstiger bei ebay. Allerdings gab es ihn da nicht in der gewünschten Konfiguration, der Zustand war meist unklar und ich hätte keine Garantie gehabt.
Hier konnte ich den Aeron konfigurieren, es gibt eine 12-monatige Garantie, der einwandfreie Zustand ist gesichert, da er professionell aufbereitet wurde, und er ist sogar genauso günstig wie die besten ebay Angebote!
Ich habe meinen Aeron hier gekauft und bereue es keinesfalls. Bei Fragen zu der PostureFit Montage, habe ich sofort Hilfe vom Support bekommen. Sehr zu empfehlen für jeden, der sich einen Herman Miller Stuhl zulegen will!
From:
Rolf Hamann
On:
19 Apr 2017
Ein Bürostuhl, der sein Geld wert ist
Berufsbedingt sitze ich bis zu 8 Stunden am Schreibtisch. Den Aeron fand ich nach meiner Recherche passend, weil er keinen normalen Stoff hat, sondern eine durchlässige Membran, die besser atmet. Außerdem macht der Stuhl einfach was her und ist nicht so überfrachtet, wie andere Ergonomie-Stühle. Das Modell ist zwar keine Neuware, wie mir der Mitarbeiter telefonisch erklärte (darum der günstige Preis). Ich bin aber überrascht, das äußerlich und vom Sitzgefühl kein Makel festzustellen ist. Auch die Kaufabwicklung konnte besser nicht sein. Ich empfehle also gerne weiter!
From:
Christoph Luig
On:
1 Feb 2017
Stuhl sehr gut, Service herausragend
Ich möchte Ihnen ein großes Lob aussprechen. Ware, Service, telefonischer Kontakt, Lieferzeit alles genial.
Write an evaluation
Evaluations will be activated after verification.