Herman Miller Aeron Remastered – new Aeron Chair

Hersteller:
Herman Miller
Order number:
DC-10367-B-G-V-WB
Immediate shipping after payment.
€1,840.00 *
€1,345.00 *
(26.9% saved compared to catalogue price)
Prices incl. VAT plus shipping costs
Herman Miller Aeron Remastered – new Aeron Chair
One of history's most important office furniture found its condign predecessor: The Aeron Remastered. The remake is even lighter, more ergonomic and easier to use than the design icon.
The designers Don Chadwick and Bill Stumpf created a cult item in the 1990's, which was ahead of the times when it came to both its design and its ergonomic features. The underlying idea: Providing an appropriate office chair for office workers with a design affinity, who are spending most of their working time in a sitting position. At its launch the Aeron was the very first office chair that managed without any padding. Now, the Aeron Classic was modernized for the working world of the new century. Even better, the Aeron Remastered has upgraded features thanks to a new material composition and the involvement of newer ergonomic aspects.
Key-Features:
PostureFit SL The patent and revised back support performs ergonomic stability on the pelvic area, which evenly radiates on the back. With the Remastered the proven PostureFit comes with two adjustable pads to support the sacral bone and the lordosis.


8Z-Pellicle-Membrane The permpeable, patent membrane is felt to the diffusion processes of the human skin. It prevents heat development and offers an unprecedented comfort thanks to eight variable supporting zones of different firmness.
3D Arm rests An even easier handling and raised comfort in every work environment because of height adjustment, depth adjustment and pivoting arm pads.
Data sheet and brochures


| | |
| --- | --- |
| Your type: | Designer, Executive league, Producer, Architect |
| Usage: | Office |
| Designer: | Don Chadwick & Bill Stumpf |
| Warranty: | 12 years |
| Weight: | 22 kg |
| Recyclability: | 91% |
| Condition: | Brand new |
| Arm rests: | Adjustment height, back & forth, in & out |
| Functions: | Back- and forward tilt, Adjustment of seat height, Tilt limiter, Tilt tension, Rotation |
| Seat depth: | Fixed |
| Back support: | yes |
| Lab testet up to: | 159 kg |
Fragen und Antworten
mehr
Fragen? Questions?
Danke für das Einsenden deiner Frage. Wir werden sie so schnell wie möglich per e-Mail beantworten. Sofern die Frage für alle Kunden interessant ist, wird sie anonymisiert in das FAQ aufgenommen.
Thanks for submitting your question. We will reply as soon as possible by e-mail. If the question is interesting for all customers, it will be added anonymously to the FAQ.
Welche Größe ist die richtige für mich? / Which Aeron suits me best?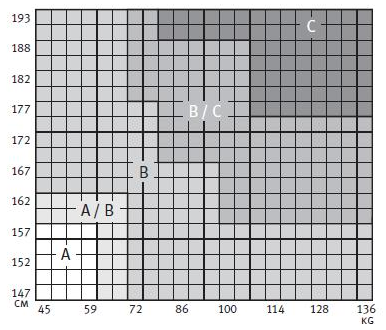 Um den richtigen Aeron Chair zu wählen, benötigst du – wie in der Grafik zu sehen – nicht mehr als die Eckdaten Körpergewicht und Körpergröße. Der Großteil aller Nutzer fällt unter die Größe B. Doch es gibt auch Ausnahmen: Während Kinder sowie sehr zierliche Frauen auf den Aeron A zurückgreifen sollten, empfehlen wir kräftigen und hochgewachsenen Männern den Aeron C zu verwenden.
Befindest du dich in einem Übergangsbereich, kann ein Probesitzen sinnvoll sein. Bist du 1,80 m groß und 95 kg schwer, liegst du genau im Übergangsbereich von B und C. Wir empfehlen unseren Kunden jedoch ab ca. 95 kg Körpergewicht den Aeron Chair in Größe C, um auf Nummer sicher in Hinblick auf die Bequemlichkeit der Sitzschale zu gehen. Einbußen in der Ergonomie gibt es keine.
---
To choose the right size of an Aeron Chair you need nothing more than to know your body weight and body height – as you can see in the graphic. The majority of user need the Aeron B. But there are exceptions: While kids and tiny women need the Aeron A, tall and heavy men should go for the Aeron C.
If you are in a transition area, a test sitting might be reasonable. If you are 1,80m tall and 95kg heavy, you are in the transition area of Aeron B and C. We recommend the Aeron Chair size C to customers with 95kg or more, as it effects the comfort of the seat squab. The ergonomic benefits remain the same.
Ist das die neue oder alte Version des Aeron Chair? / Is this the new or old Aeron Chair?
Der "alte" Aeron wird seit Einführung des "neuen" häufig als Aeron Classic bezeichnet. Dieses Modell steht hier zum Verkauf. Der seit Anfang 2017 erhältliche Nachfolger erhielt den Namen Aeron Remastered. Aber von alt und neu im Sinne von gut und schlecht zu sprechen, wäre falsch.
Die Bezeichnung remastered (=überarbeitet, neu aufgelegt) drückt bereits aus, dass das neue Modell nicht als Verbesserung des Design-Klassikers dienen soll, sondern als aktualisierte Neuauflage mit nur kleinen Veränderungen in Design und Ergonomie. Es ging Designer Don Chadwick darum, den Aeron in das 21. Jahrhundert zu überführen.
---
Since the launch of the "new" Aeron, the "old" Aeron is often called Classic Aeron. This model is up for sale here. The follow-up, which is available since the beginning of 2017, is called Aeron Remastered. But you are wrong, if you think old and new represent good and bad. The label "remastered" already reveals that the new model is not meant as an improvement of the design classic. It is rather an updated remake with small changes in design and ergonomics. For the designer Don Chadwick it was all about transferring the Aeron Chair into the 21st Century.
Welche Fußbodenrollen benötige ich? / Which floor casters do I need?
Die meisten Bürostühle werden ab Werk mit Bodenrollen ausgestattet, die sich vorrangig für weiche Untergründe wie Teppichböden oder Auslegware eignen. Die Rollen tragen deshalb bei uns die Bezeichnung Weichbodenrollen.
Im gemeinen Büro dominieren jedoch Parkett und Laminat, in Forschungseinrichtungen auch Fliesen. Die Lösung für harte Böden sind spezielle Hartbodenrollen. Sie sorgen dafür, dass sich der Stuhl geräuscharm und bodenschonend auf dem Untergrund bewegen kann. Aufgrund der besonderen Oberflächenstruktur wird der Bürostuhl auf dem schnellen Untergrund abgebremst, in seiner Nutzung aber spielend leicht bewegt. Zudem machen Hartbodenrollen die Verwendung von Bodenschutzmatten überflüssig.
---
By standard most office chairs are equipped with floor casters which mainly suit soft floorings such as carpets. Therefore, this kind of casters are called soft floor casters. Common offices are provided with parquet or laminate, or tiles in research facilities. For those groundings, the standard floor casters are sparsely suitable. Instead, special hard floor casters are needed.
Hard floor casters contribute to low-noise movements and protect the floor in your office. Because of a special surface texture, the office chair is slowed down, while it can easily be moved. Moreover, hard floor casters make the use of chair mats obsolete.
Hat das Modell alle Verstellmöglichkeiten? / Is the chair fully loaded?
Ja, dieses Modell ist "fully-loaded", das heißt es verfügt über alle Einstell- und Verstellmöglichkeiten, die am Stuhl möglich sind.
Bspw. bei Aeron Chair gehören neben der standardmäßigen Rotation und Sitzhöhenverstellung auch Neigungsbegrenzung, Neigungswiderstand, Vorwärtsneigung sowie höhenverstellbare Armlehnen, die sich nach innen und außen schwenken lassen.
---
Yes, this offered model chairs ist all "fully loaded", meaning that they come with all possibilities to individually modulate your office chair. Besides default rotation and seat height adjustment, i.e. the Aeron Chair is adjustable in its tilt limiter, tilt angle, tilt resistance and forward tilt. Moreover, the arm rest are height-adjustable and can be swivel in- and outwards.
Wie finde ich die Größe meines Aeron heraus? / Which size has my Aeron?
Am Aeron befindet sich am oberen, rückseitigen Teil der Rückenlehne ein Hermann Miller-Logo. An dessen Rückseite kannst du eine Einkerbung in Gestalt von einem, zwei oder drei Punkten ertasten, die die Größen A, B und C repräsentieren.
---
There is a Herman Miller logo at the upper back site of your Aeron chair. If you are able to feel a notch in form of a dot behind it, it is an Aeron A, while two parallel dots indicate an Aeron B. If you can feel a triangle, you own an Aeron C.
Stuhl testen? / Test Seating?
Grundsätzlich gelten beim Testen die gleichen Bedingungen wie bei einer Miete. Solltest du dich letztlich für einen Stuhl entscheiden, gilt die gezahlte Miete dann als Anzahlung.
---
Test seating is limited within Germany.
"Nicht auf Lager"? / "Out of stock"?
Konfigurationen, die sich auf Lager befinden, sind sofort lieferbar. Nicht auf Lager befindliche Konfigurationen wie bspw. der Aeron Remastered in Mineral oder ein Cosm Chair in einer Farbvariante haben eine Lieferzeit von ca. 6 Wochen, weil sie direkt beim Hersteller in den USA oder UK produziert und dann importiert werden.
---
Configurations with the label "in stock" are available immediately. Out of stock configurations, such as the Aeron Remastered in Mineral or a Cosm Chair in a specific color variant, have a lead time of approximately 6 weeks because they are produced directly by the manufacturer in the US or UK and then imported.
Aufgrund der geringen Nachfrage halten wir Größe A nicht auf Lager, kann aber auf Anfrage bestellt werden.
---
Because of low demand we don't hold Remastered in Size A in stock, but can be ordered individually.
Graphite ist die Farbe, die wir ständig auf Lager halten. Sie ist die dunkelste Variante und lässt sich als Dunkelgrau beschreiben. Carbon ist eine Farbnuance heller.
---
Graphite is the colour, we always have in stock as standard color and could be described as dark grey. Carbon can be described as a shade lighter.
Read, write and discuss reviews...
more
Customer evaluation for "Herman Miller Aeron Remastered – new Aeron Chair"
From:
Marcus
On:
28 Apr 2019
Great chair!
The quality is great and the chair is just crazy comfortable. The delivery to Sweden was fast and without any hassle. I've had it for a couple of months now and really love it. Thanks guys!
From:
Andreas
On:
3 Apr 2019
Fantastic
The best desk chair I've ever owned. Great customer service, fast delivery and good quality on the chair. Delivered to Sweden without any problems.
From:
Michael
On:
2 Apr 2019
Hervorragend
Ich sitze täglich im HomeOffice auf diesem hochwertigen Stuhl, der nicht nur irre Bequem sondern auch wertig stabil ist. Da knarzt nichts, es wackelt nichts, es passt einfach alles! Die vielen Verstellmöglichkeiten machten eine schnelle Anpassung an meine Bedürfnisse möglich - ich bin heute noch glücklich. Ich hatte - weil der Stuhl ja doch nicht günstig war - vorab Kontakt aufgenommen; dabei wurde mir eine auch über die Widerrufsfrist hinausgehende Zeit zum Ausprobieren eingeräumt. Bei der Lieferung schlampte der Spediteur ein wenig - woraufhin ich nach einem lockeren Telefonat die Versandgebühren zurückerstattet bekam.

Also: ringsum zufrieden! Tolle Firma, toller Stuhl!
From:
sinisa
On:
14 Aug 2018
I have ordered this chair from this website to Croatia , guys were really helpful and fast on communication. Chair is very good and very comfy :) I am once happy customer , if i will need another chair it will be from this guys. Thanks for everything Benj
Write an evaluation
Evaluations will be activated after verification.