Why hard floor casters?
Generally office chair casters are distinguished in hard floor casters (HFC) and soft floor casters (SFC). Since many different synonyms spook around leading to misunderstandings the following figure shall bring some light into the darkness of description.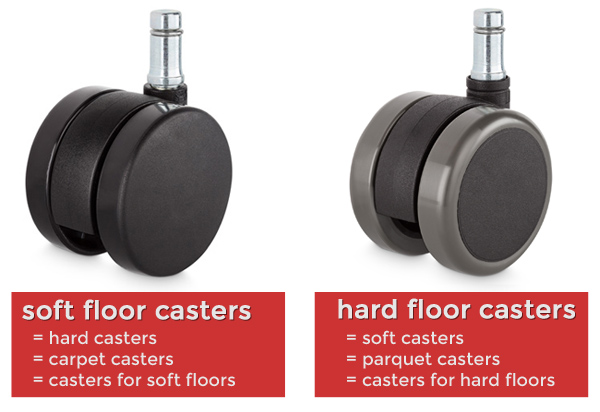 The caster itself consists of two main parts: The core and the sliding surface. While the core is identical, the sliding surface differs between HFC and SFC. The HFC has a soft surface for hard floors like parquet, tiles, laminate or cork, and most often a different colour. Against this, the SFC is made of a solid surface for soft floors like carpets.
Hard floors need hard floor casters
Do you know this scrunching noise when rolling over your floor with your office chair? Using hard floor casters, this unpleasant noise is a thing of the past. The soft surface of the wheels compensates unevenness of your floor and therefore reduces the rolling noise.
Contrary to most soft floor casters high quality hard floor casters are manufactured with brakes. That means an office chair with hard floor casters won't roll away before you sit on it and accidentally bump into a shelf. Also, hard floor casters reduce the risk to literally grasp at nothing, because the brakes release not until you put weight on them. In other words the chair will not roll away before you sit on it.
Additionally, hard floor casters save your floor from abrasion tremendously. Who doesn't like chair mats on floors and wants to prevent nasty scratches and light spots from abrasion, should think about using soft wheels for hard floors.

SFC on laminate

HFC on laminate

noisy
silent
unbraked
braked
damage your floor
save your floor
High-quality caster cost slightly more
"Who buys cheap, buys twice. One time cheap, one time expensive!"
The cheapest set of hard floor casters is available at eBay for 8,-€. To save time and nerves, you should consider these quality criteria before your purchase your casters.

TÜV examined casters


Polyurethan coating


meet DIN NORM EN 12526
The pressure of price results in low cost manufactured products, which affects the quality of office chair wheels as well. When purchasing hard floor casters you are on the safe side, if the wheels are "made in Germany". Those casters are examined by the independent governmental institution TÜV and therefore fulfil the strict requirements of the renown ISO certificate. This guarantees a fewer roll resistance when changing the direction, a long lasting rolling surface made of state-of-the-art material like polyurethane as well as the DIN Norm EN 12526.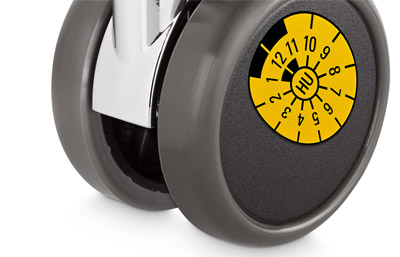 Many customers prefer plain, mostly black hard floor casters for aesthetic reasons, which is why many manufacturers of office chairs provide only these types. Eventually your individual taste decides about the appropriate type of caster – and its quality about your contentment.
All casters provided with the DesignCabinet meet the highest quality standards and were "made in Germany". We offer hart floor casters for all common office chairs. Should your chair not be part of the collection, please get in touch with us by mail or phone.