Which Aeron Chair suits me best?
THERE IS THE RIGHT SIZE FOR EVERYONE
With his products and the Aeron Chair as an office classic in particular, Herman Miller pursues the idea of a democratic design, meaning that no one is excluded from the usage of an Aeron Chair. The Aeron Chair is made for nearly every body size and physique. Not only the ordinary John Doe, who is 1,80 m tall and weighs 80 kg, but also people, who get out of line concerning their height or weight, benefit from the Aeron Chairs' advantages. With this in mind, Herman Miller designed the Aeron Chair in three different sizes.
---
THE AERON IS AVAILABLE IN THREE SIZES
The Aeron Chair is available in the sizes A, B and C. To illustrate the sizing: With ca. 104cm the size A is roughly 10 cm smaller than size C. Also the width of the seat differs in 7cm. The best-selling Aeron Chair is size B, which should be the best choice for 80 to 90% of all users of office chairs.

Aeron A: up to 1,57 m and slim users/childs
Aeron B: for most of the users
Aeron C: from 1,95 m and 95 kg
---
WHICH AERON SHOULD I CHOOSE?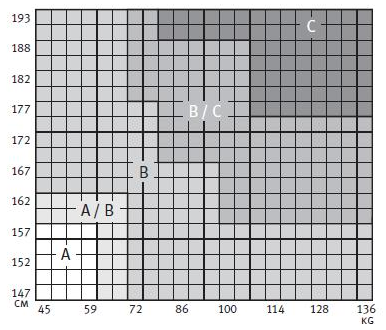 Body weight and body height are key factors to the decision over an Aeron Chair. The three provided sizes are configured to the respective person groups concerning the pressure of the back support and the Pellicle membrane.
While the Aeron B is cut out for most people, people up to a body height of 1,55m and a body weight of max. 60kg should use the Aeron A – like particularly petite women and children. People with a height of max. 1,90m and a weight up to 90 kg feel comfortable in an Aeron B. If you are 1,80m tall and 95kg heavy, you are in the transition area of Aeron B and C. We tend to go with the bigger size.
According to load tests a frictionless usage of an Aeron Chair is possible up until a body weight of 150kg. It is reasonable to have test seatings, if your measures are in the transition of A, B or C. To decide for the right Aeron Chair, please use the table below.
---
HOW TO FIND OUT THE AERON SIZE WITHOUT MEASURING?
If you already own an Aeron Chair without knowing its size, you can determine it without measuring. There is a Herman Miller logo at the upper back site of your chair: If you are able to feel a notch in form of a dot, it is an Aeron A, while two parallel dots indicate an Aeron B. If you can feel a triangle, you own an Aeron C.
Classic Aeron Chair from 879,– EUR) Aeron Remastered (from 1399,– EUR)
---